DO'S AND DONT'S FOR PROPERTY OWNERS

DO's...
1. DO contact a surveyor well before the survey is needed.
2. DO make sure the land surveyor is licensed and in good standing with governing authorities. Consult other authorities as to a land surveyor's qualifications, ethics, and character.
3. DO expect quality work which meets the required minimum standards of practice. Accept nothing less!
4. DO furnish information requested and explain to the surveyor the specific scope of work desired.
5. DO ask the surveyor to explain and review his work.
6. DO inspect the boundary lines and monumentation to familiarize yourself with their position.
7. DO record the survey plat and/or description even if a property transfer is not made.

--------------------------------------

DON'T...
1. DON'T select a surveyor on cost alone.
2. DON'T relocate or move any boundary monument for whatever reason! Kentucky law considers it a crime - a Class D felony - to move any survey monument for any reason! This is because a single monument is used for referencing other monuments and property lines besides yours. An improperly placed monument can change other property lines, which can result in dire consequences for both property owners and for the individual who moved the survey monument.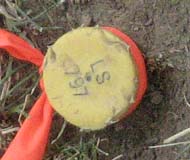 Above is a typical example of a boundary marker.